Zeppichl's cuisine: it doesn't get more regional than this.
Speck and sausage from the farm butchery across the street, local cheese from the cheese dairy next door – at Mountain Residence Zeppichl, only the best from the region makes it onto the breakfast table and into our pots. You can rely on that. We always look forward to the period from the end of September to mid-October when we invite you to our Bauernkuchl (or "farmer's kitchen" in English). Then, hearty delicacies like Schöpsernes (a South Tyrolean traditional lamb stew), Muas (a typical Tyrolean farmer's dish made from wheat semolina, milk, and butter), and Riibl (a traditional farmer's potato dish) are on the menu. Do you like fresh fish? Be sure to try the trout. It really doesn't get any fresher or more regional than this.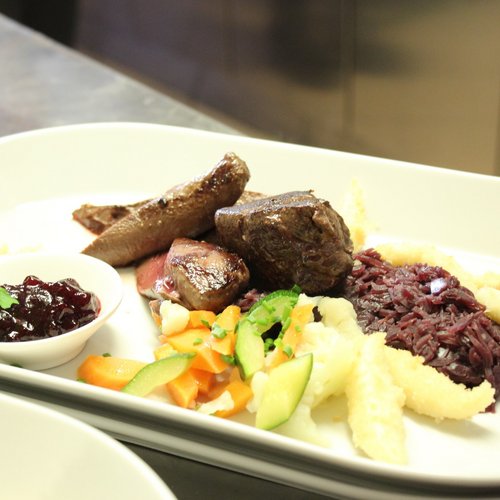 Mountain Residence Zeppichl is a family hotel through and through. We love what we do. Your host, Lukas, especially enjoys his time in the kitchen as head chef – and you can taste it in his South Tyrolean specialities. He conjures up game dishes of all kinds and his desserts … you'll instantly love them. In summer, he likes it hot. That's why we fire up the grill once a week. Then, you can look forward to delicious regional meat, fish, and vegetarian delicacies. Join us and taste for yourself!