Ski accommodation right on the piste
Are you planning an exceptional holiday this winter and are still looking for ski accommodation right on the piste? Welcome to Mountain Residence Zeppichl in Pfelders, one of the most beautiful ski accommodation right on the slopes! The Pfelders ski area is incredibly varied with plenty of slopes for all piste enthusiasts, from beginners to pros, and perfect for the whole family. Strap your skis on in the ski cellar and glide straight over to the valley stations of the Gampenlift and Grünboden Express cable car. Let the skiing fun begin!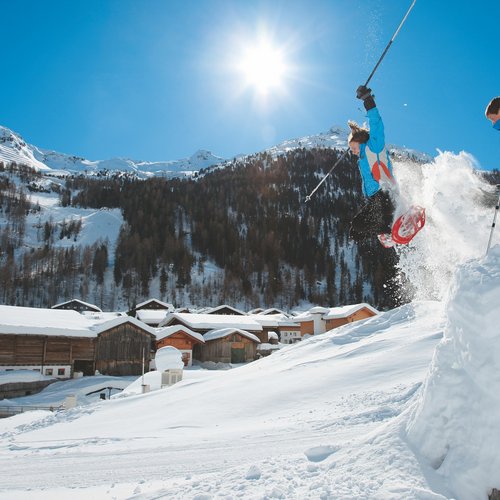 Snow, mountains, ski accommodation right on the piste
Pfelders ski area offers 18 extraordinarily gorgeous kilometres of slopes for a winter holiday with everything your heart desires: slopes for beginners and downhill pros, a professional ski school, and a ski rental. Skiing is wonderful, but every now and then a little peace and quiet is good for clearing the mind. Our Pfelders ski accommodation is right on the piste and opens up to an impressive winter landscape. Here, you can glide endlessly on cross-country skis over quiet trails or listen to the soothing crunch of the snow on a free guided snowshoe hike (offered once a week). Take it up a notch with an extended ski tour to Erensee, on Monte Lavagna/Schieferspitze, Cima Rosa/Rötelspitze, or on Cima delle Anime/Seelenkogel. As you can tell, a skiing holiday doesn't always have to be fast and furious.
Your holiday apartment on the ski slope
Ski accommodation right on the piste isn't just popular with skiers, snowboarders, and winter hikers. You can experience so much more in Pfelders. Only a few metres away from the hotel is an idyllic natural ice-skating rink. How about a wild toboggan run or a romantic torchlight hike for a change? Or are you into action? You certainly won't be bored ice climbing in Gruppo di Tessa/Texelgruppe Nature Park. But remember to warm up every now and then. The doors of our Mountain Spa are always open to you in Pfelders' most beautiful accommodation. And when winter is over and the snow melts, the Merano High Mountain Trail starts calling. Your accommodation in Pfelders is worth a visit at any time of year.