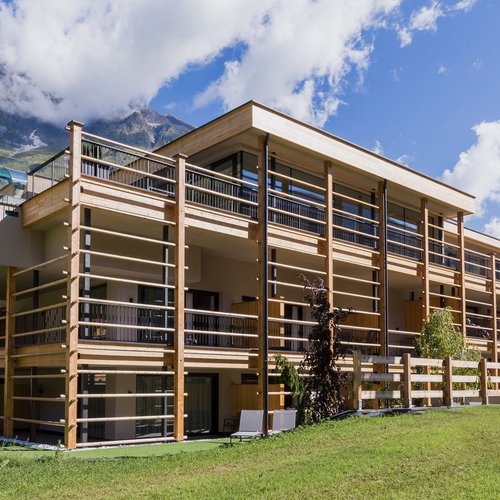 Your holiday at Mountain Residence Zeppichl
Just above the idyllic mountain village of Pfelders in the most beautiful spot in Val Passiria/Passeiertal lies the small hamlet of Zeppichl. Framed by mighty three-thousand-metre peaks and lush green forests at 1,680 metres above sea level, you'll find our home: Mountain Residence Zeppichl. Nowhere does the soul unwind more easily, we think. We'll just say that it's best if you see for yourself.
and absolute tranquillity
relaxation in our Mountain Spa
We, your hosts, love Pfelders and Val Passiria/Passeiertal. This isn't just reflected in the lovingly furnished rooms, suites, and holiday apartments, but you can also see it in our kitchen. The owner, Lukas, never misses an opportunity to personally wield the wooden spoon for you and keeps a sharp eye on all the ingredients that end up in his pots. Our cheese comes from the dairy farm next door and other fresh products arrive quickly from every corner of our own region. How perfectly delicious!
With the hiking network of Gruppo di Tessa/Texelgruppe Nature Park and the Merano High Mountain Trail right on our doorstep, Mountain Residence Zeppichl is the best base camp for active holidaymakers and summiteers. Here, you'll find hikes of all levels of difficulty, from leisurely panoramic trails to invigorating mountain tours. As you have so many choices and you might have a hard time deciding, we'd be happy to tell you our best hiking tips!
Mountain Residence Zeppichl is located right on the ski piste. Just grab your equipment or rent it on site and hit the slopes of the Pfelders ski area. 18 well-prepared kilometres of pistes and a perfect winter wonderland are waiting to be experienced. And what about some off-piste adventures? If you're drawn to nature off the downhill runs, you can go snowshoe hiking, ski touring, and cross-country skiing. The toboggan run and the natural ice rink in Pfelders are also great fun for all ages.
Our Mountain Spa is the highest wellness centre in Val Passiria/Passeiertal. Three saunas and a steam bath are a blessing for tired hikers, and in the spacious pool area, everyday life is quickly forgotten. The view is unbelievably beautiful. If you like, you can also simply take a day's break in our well-being haven. The day spa is open to you by request.
A lovely warm welcome and great food. The staff were caring and professional.
Highly recommended. Clean, modern, and friendly staff – a hotel we would like to visit even when we're not hiking.
We stayed here overnight after the 2nd stage of the Merano High Mountain Trail. The highlight awaited us at the restaurant in the evening: very attentive staff and a delicious meal. I would come again any time.
We will be back soon to enjoy the beautiful scenery, the tranquillity, the perfect cuisine, and the friendliness of all the staff on duty.
The breakfast is first class, typical of the region with the farm's own products and not overloaded with bland knick-knacks. Always worth a trip.
The breakfast is plentiful. Lukas' cooking was excellent as always and Verena, who remains friendly in every situation, makes you feel completely at ease.
We appreciated the friendliness and expertise of the entire team, the familiar, relaxing atmosphere in the hotel as well as in the ski area, and the unsurpassed, excellent cuisine.